Choosing The Best Hurricane Window Protection for Your Property
Choosing The Best Hurricane Window Protection for Your Property
Proudly Serving Houston Tx, Galveston, and the surrounding areas. 0% Interest For Up To 12 Months
Stop Relying on Plywood for Hurricane Protection
If you have ever lived in Houston or another coastal area that is at risk of hurricane conditions, chances are you already understand the importance of protecting your home whenever there is a storm. Home and business owners alike often make the mistake of relying on plywood for hurricane protection. While installing hurricane plywood outside of windows serves as a better-than-nothing solution, it should never be relied on as a permanent solution as it won't protect your home in the event of a severe storm. In high winds, the plywood could pull away from the bolts and nails fastened to it, exposing your windows and the inside of your home to potential damages.
In order to be fully prepared and protected for hurricane season, you need more durable and reliable protection. Fortunately, there are various types of shutters and other hurricane window protection options available that are easy to install, durable, and will provide peace of mind that your property is safeguarded from high winds, flying debris, and other damaging storm conditions. If you're unsure which options are right for your property, you've come to the right place. Below, the best hurricane window protection products are highlighted.
See A Demonstration Of Our Lineup
Watch as Frank gives a demonstration of our product lineup. We have a number of solutions for any home, so please contact us so we can help determine which product would be the best solution from protecting your home from hurricanes or vandalism. Or See our entire product lineup here
Qualities to Look for in Hurricane Window Protection Products
There are various hurricane window protection products available, but before you begin your search, you should have an idea of what you're looking for. Last year in Texas, about 563,000 single-family homes were at risk of being damaged by Category-5-strength hurricane conditions. For this reason, it's important to ensure that your home is protected with top-of-the-line products. When browsing the various hurricane window protection products for your home, you should look for these essential features and qualities.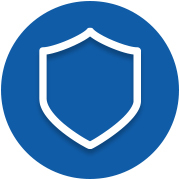 Durability
High winds, airborne debris, and wind-driven rain — glass windows, sliding doors, and other openings require reliable protection.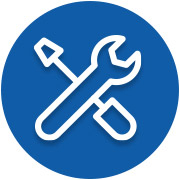 Easy Installation
When hurricanes approach, you need to be able to deploy protection fast. No more dealing with time-consuming plywood paneling.
Code Compliance
Certain counties have stringent building codes requiring hurricane window protection designed to take a certain pressure and load.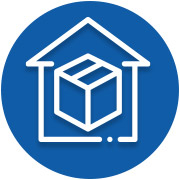 Simple Storage
When hurricane conditions do not exist, window protection products should offer easy and hassle-free storage solutions.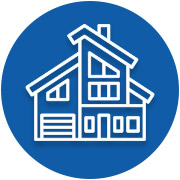 Style & Design
Hurricane protection products are available in various styles and designs, making it easy to match your home's existing architecture.
Protect, secure, and defend your home from hurricane conditions.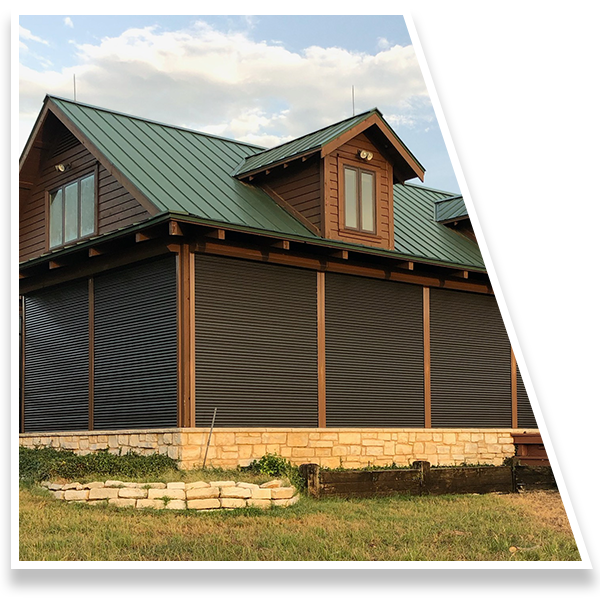 ROLL-UP SHUTTERS
Roll-up hurricane shutters, also known as roll-down shutters, are permanently installed over windows, doors, and other openings. The shutter panels are manufactured from high-quality extruded aluminum material to offer trusted durability. Whenever a storm approaches, hurricane roll-down shutters can easily be deployed to form a rigid barrier that can protect against high winds and flying debris. These shutters can be operated from inside or outside of your home. They work by a manual hand crank or electric motor, and can be raised and lowered with ease. While in the closed position, they not only provide hurricane protection, but they also protect from forced entry and burglary. When hurricane roll-up shutters are not in use, the panels can be rolled up and concealed by an aluminum hood that fits with the architectural style of your home — you don't have to worry about your curb appeal being negatively impacted.
Key Features
✓ Made with high-strength aluminum
✓ Permanently installed for easy deployment
✓ Offers hurricane & security protection
✓ Easy to conceal when not in use
✓ Many styles & designs to fit your home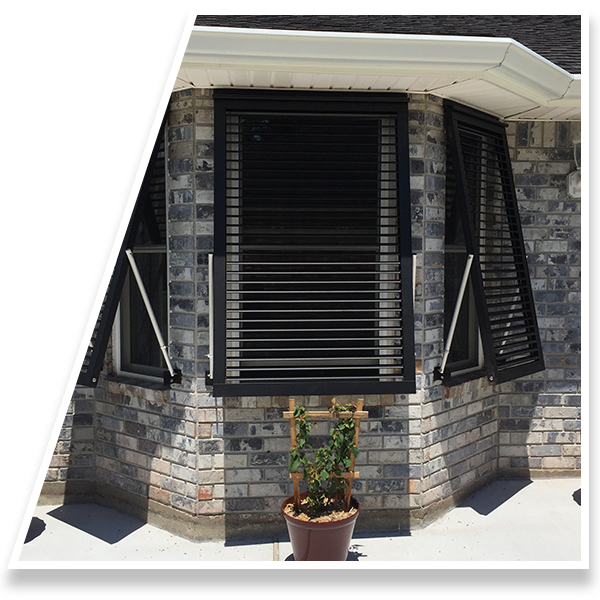 BAHAMA SHUTTERS
If you are looking for stylish hurricane window protection options, Bahama shutters may be exactly what you are looking for. Unlike most hurricane shutters, Bahama shutters look like actual shutters used in the tropical regions and function like them too, just with more durability and protection. These shutters are constructed from heavy aluminum material but are available in a wide variety of colors and styles to fit the exterior appearance of your home. They are permanently installed aboy each window opening at a 45-degree angle. The slatted panels on the shutters provide protection from the harsh sun while still letting in light and allowing for those inside a home to have an outside view. They can be pushed open when you want to allow more sunlight and breeze to enter and pulled shut and locked whenever you need hurricane protection or additional security. It's easy to find Bahama shutters. Because these hurricane shutters are available in all sorts of colors, materials, and finishes, it's easy to find an option that perfectly protects and suits the style of your home.
Key Features
Stylish, available in different colors & designs
Installed above windows at a 45-degree angle
Offers hurricane & security protection
Easy to open and close
Both decorative & functional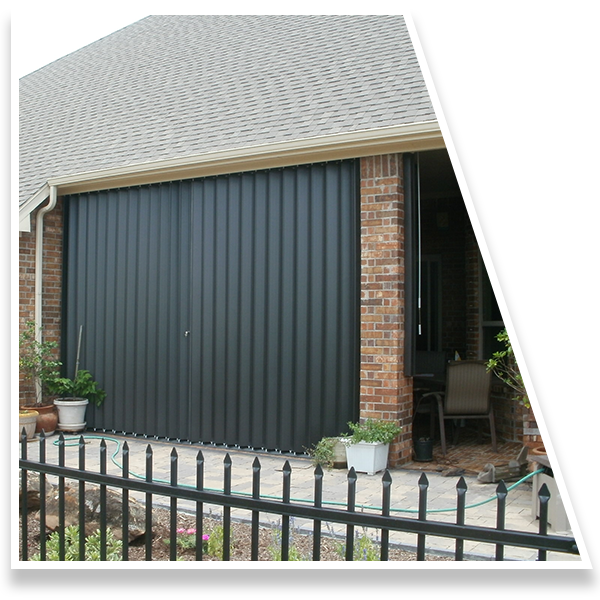 ACCORDIAN SHUTTERS
Like hurricane roll-up shutters and Bahama shutters, accordion shutters are permanently installed on windows, sliding doors, and other openings. Accordion shutters are very similar to roll-up shutters in that they can be stored in a concealment hood whenever they are not needed. The biggest difference between the two, however, is that instead of the shutters sliding down and up, they simply roll on a horizontal track for easier and more efficient use. Accordion hurricane shutters are also constructed from high-quality aluminum, making for a highly durable window protection covering that will help avoid costly damages during extreme weather. Accordion shutter systems have a heavy-duty locking mechanism that ensures reliable protection from severe storms as well as forced entry and theft. These shutters are available in different styles and designs, making it easy to find the perfect option for your home.
Key Features
Made with high-quality aluminum,
Permanently installed
Offers hurricane & security protection
Slide horizontally for easy and quick operation
Can be hidden when not in use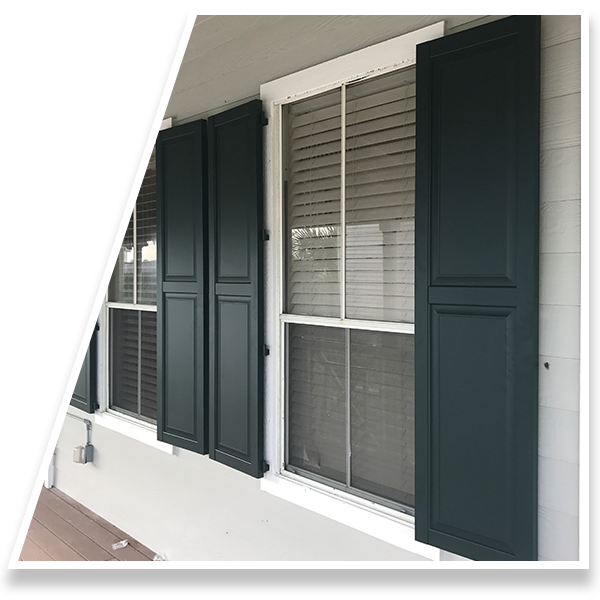 COLONIAL SHUTTERS
Colonial hurricane shutters are unique in that they can provide homeowners with the property protection and security needed come hurricane season while adding to the exterior appearance of their house. They are constructed of heavy-duty aluminum, making them extremely durable and weatherproof. These unique hurricane shutters affix to the outside of the house on the outsides of windows and other openings. When open, they offer an unobstructed view through the window. They also frame the window like a beautiful set of traditional exterior shutters would. When each side is closed and the shutters are secured, however, they become an impenetrable shield, protecting your windows from hurricane conditions. Similar to Bahama shutters, they come in a wide variety of styles and colors, so you can match the perfect storm shutters to your home, enhancing the aesthetic design while protecting it.
Key Features
Constructed of heavy-duty aluminum
Permanently affixed to the outsides of windows
Offers hurricane & security protection
Both decorative & functional
Easy to close up and open
Other Hurricane Window Protection Options
Offering flexibility, reliability, and reliable protection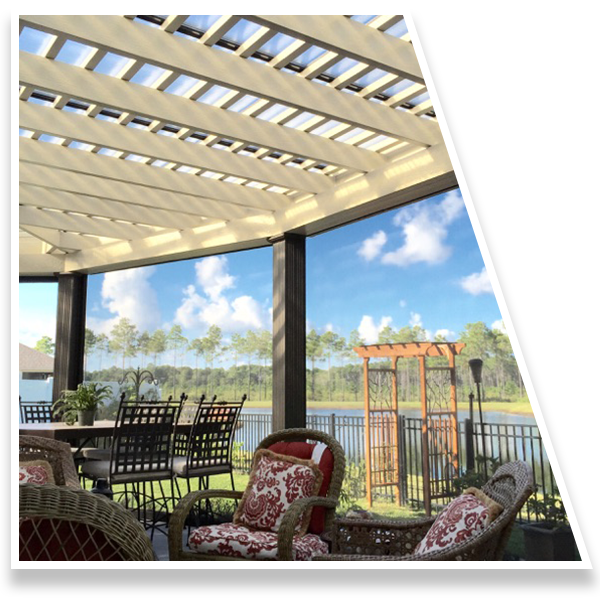 HURRICANE SCREENS
Hurricane window screens are much different than hurricane shutters, but still offer reliable protection and security. Hurricane screens are constructed of high-strength steel screening and a durable aluminum frame. The screening is installed outside of windows, sliding doors, balconies, and other openings to create a virtually impenetrable barrier that will defend against hurricane conditions as well as forced entry. The unique thing about hurricane window screens is that they don't obstruct the view from inside. Natural light will still enter your home, but with the glare significantly reduced! It is hard to even notice the screening once it is installed, so you don't have to worry about it affecting the exterior appearance of your home — some homeowners leave their window protection screens up year-round!
Key Features
Minimally-invasive appearance
Screening is constructed of high-strength material
Provides hurricane & security protection
Can reduce glare and make your home more efficient
Does not obstruct view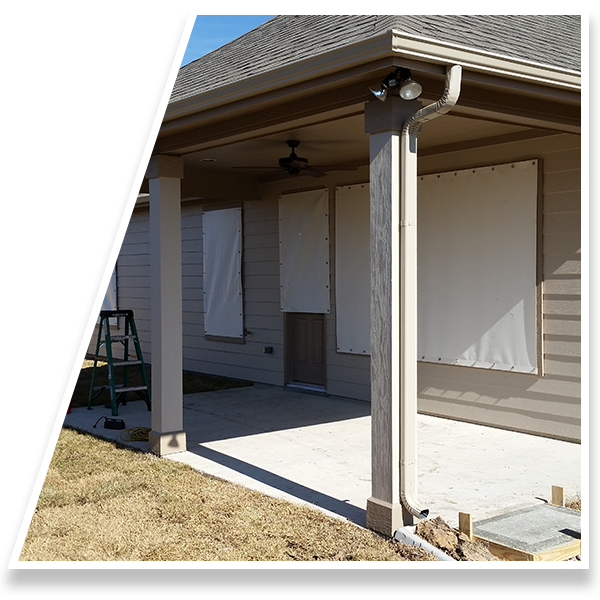 HURRICANE FABRIC
Hurricane window protection fabric is much stronger than you may initially think. Installing high-strength, high-tenacity hybrid fabric provides unsurpassed hurricane protection for any opening in your home. It is often the recommended protection solution for openings that traditional hurricane shutter systems aren't compatible with. The fabric material is easy to install over window coverings whenever severe storm conditions are approaching — it is held securely in place by strong clips attached to the home. The fabric is quick to take down and can easily be folded up for storage until it is needed again. The fabric is available in translucent designs to allow natural light and visibility while effectively protecting against high winds and driving rain.
Key Features
High-strength fabric prevents damage from high winds and flying debris
Easy to install and take down
Allows for natural light and visibility when installed
Perfect for larger openings
Does not obstruct view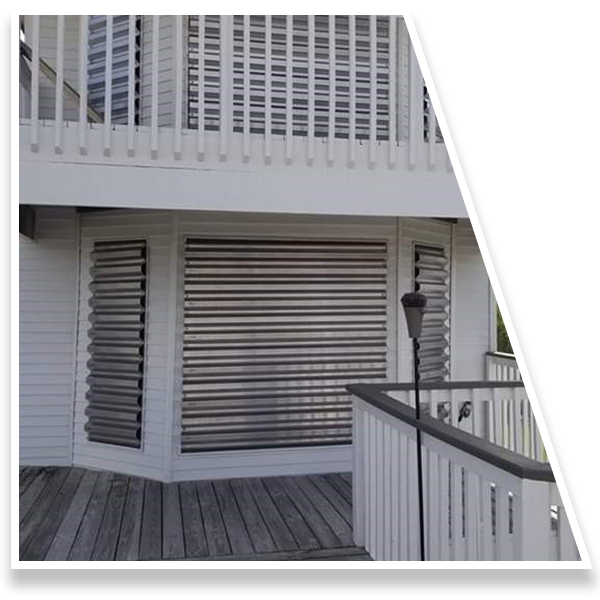 HURRICANE PANELS
Hurricane panels, also commonly referred to as storm panels, are available in a wide selection of materials to provide your property with the protection it needs. They are available in steel, aluminum, or clear polycarbonate Lexan material. These are similar to plywood in the way that they are installed over windows and openings, but provide unsurpassed protection and reusability due to the quality and strength of the materials used. Steel hurricane panels often meet or exceed the most stringent wind codes, aluminum storm panels can be mounted in various ways to provide adequate protection, and clear panels allow natural light to shine through your windows, and can be made to match any window shape to blend in with the design of your home. Most hurricane panel systems require permanently installed anchors near windows and other openings, but they are not very noticeable and make putting the panels up much easier and faster compared to plywood. When not in use, panels stack together for easy storage.
Key Features
Provides hurricane & security protection
Available in steel, aluminum and Lexan material
Corrugated design allows for easy storage when not in use
Meets most wind codes
Storm panels install easily
Determining the Best Products for Your Property
Once you familiarize yourself with the different hurricane window protection options, you need to determine what is going to be best for your home. There may be more than one option available that offers the protection and coverage you're looking for, but you can make the selection process easier by taking the following steps.
1. Perform a Self-Assessment of Your Exterior
Step outside of your home to get a clear view of the exterior. Make note of any windows, sliding doors, balconies, and other openings that would be at risk if a hurricane were to strike. Consider the size of each opening. Grabbing measurements of each exterior window, door, and opening will make it easier to find products that better fit your home.
2. Determine a Budget
Hurricane protection products are an investment. While the cost of hurricane shutters and other products may have you turning back to plywood, it is worth considering the money and time you will save in the long run. In most cases, plywood cannot be reused after it goes through a storm and is time-consuming to install. Hurricane protection products are worth the investment, but you should still establish a budget to make your selection easier.
3. Consider the Architectural Style of Your Home
Hurricane shutters and other window protection products have come a long way since their rollout. Today, you will find that a lot of these products are available in different styles, designs, and finishes that have a minimal impact on curb appeal. Consider your home's architectural style and look for options that won't disturb its appearance.
4. Check Local and State Codes
Some hurricane-prone regions have stringent building codes in place that require specifically designed hurricane window protection products. If you live in a coastal area prone to hurricanes, check to see if there are any codes and regulations in place that specify the type of protection needed.
5. Seek Expert Advice
If you aren't sure what hurricane protection products are right for you, consider seeking advice from an expert. Contact a hurricane shutter company that offers free consultations. By providing them with information about your protection needs, window and door measurements, and other details about your property, they can help you find options that you can rely on.
Get the Hurricane Protection Products You Need
If you are searching for hurricane window protection products for your home, Houston Hurricane Protection & Security Products offers a wide selection of high-end shutters, screens, panels, and more! If you are still unsure which hurricane protection solutions are best for your property, contact us for a free consultation with one of our experienced team members. We'll be happy to virtually assess your property to determine the very best hurricane protection products for your home.